buy right products from right place
Rental Mobile Lighting Towers
Our mobile lighting towers are de-facto the perfect renting solutions for any event or major project. Extremely reliable and durable, our lighting towers offer the best illumination solution with their powerful presence.
The main advantage of our mobile lighting solutions is that they can be used stand alone with their own generator supply or can be connected to an external supply as required. Further, with an extendable height and rotation capability, our mobile lighting tower solutions offer the highest flexibility in application. They are also capable of operating reliably in windy conditions.
Compact in presence, yet corrosion resistant in built and manufacture, our towers are tested and installed by an expert team with the highest level of experience and familiarity.Further, we carry a ready inventory of all associated equipment and offer dependable generator rental, transformer and distribution panels as well, to complete the package. We thus offer an extremely versatile and cost-effective solution, even for the most demanding of your needs.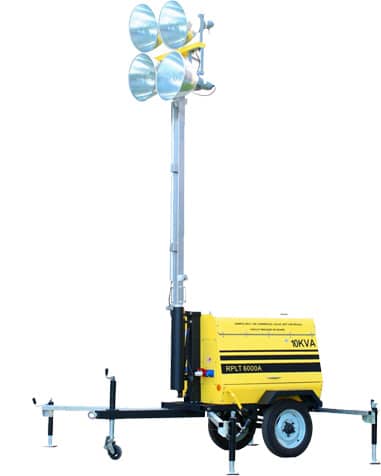 Maintenance Cost & Energy Saving

Highest Reliability

Priority Support

Highest Uptime